TummyTuck is a slimming cream that contains a powerful combination of ingredients that redefine your body contour at bulgy areas such as your tummy, flabby arms, thighs and buttock. It works best for those with high B.M.I.
Can't buckle up your pants? Can't button up that shirt of yours? Time to slim down your tummy?
TummyTuck can help you loose stubborn fats at your tummy, thigh and arm. TummyTuck employs Lynk Biotech's proprietary delivery technology to effectively deliver a high concentration of active ingredients to the applied area to firm and shape your body.
A preliminary trial has shown that by applying the cream twice daily for 8 weeks, it can help to reduce the waist size by up to 9cm !
TummyTuck contains the following active ingredients that work together to achieve the slimming effect.
Caffeine
Caffeine stimulates and increases lipolysis which is the process of breaking down fats into fatty acids. It blocks the phosphodiesterase, an enzyme which degrades cAMP to AMP. cAMP is the starting point of lipolysis.
Caffeine works with other active ingredients to further enhance lipolysis.
Carnitine & Coenzyme A
During lipolysis, fats are broken down into free fatty acid. Coenzyme A will bind with this free fatty acid to efficiently transport the fatty acid inside the cells of our body for conversion into energy. The transportation process is enhanced by L-Carnitine.
The graph below shows the reduction in hypodermis thickness (fat layer of the body) by 8.2% when Carnitine, Coenzyme A and Caffeine are used together. The study was conducted on 25 subjects.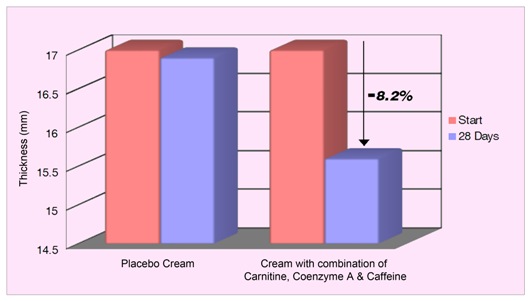 Bupleurum Falcatum Root Extract
Bupleurum Falcatum Root Extract is an original Chinese traditional medicinal plant extract, which in synergy with caffeine remarkably stimulates lipolysis. It is able to increase the production of cAMP which is needed for lipolysis.
A study conducted with 16 subjects shows that after 8 weeks of cream application containing Bupleurum Falcatum Root Extract and Caffeine, the thickness of the adipose tissue (fat layer) decreases by 6% (1.9mm). See graph below.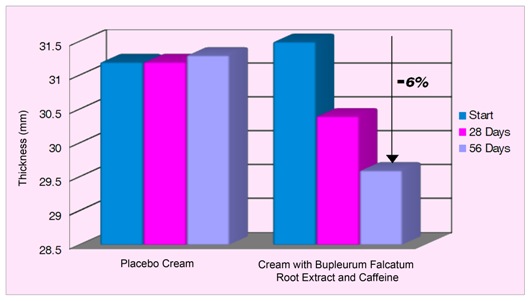 Glaucine
Glaucine is found in several different plant species. It is able to inhibit the process of fat cell formation; reducing the number of fat cells and the size of fat cells. Reduction in fat cells and size of fat cells improves the skin texture (less cellulite). The process also improves the skin firmness.
Photo below shows adipocytes (fat cells) cultured in the presence of Glaucine. The cells are observed under microscope for 72 hours. The size of lipid vesicles and adipocytes are visibly reduced.

The diagram below shows how all the ingredients contained in TummyTuck can work together.