Transdermal Delivery Technology refers to delivery of active ingredients across the skin for systemic distribution.
Water-soluble molecules and drugs are normally not able to cross the skin as the skin is a natural barrier to water. Therefore, drugs are traditionally made in an oral form to be absorbed into the blood stream through our digestive system. However, when consumed orally, these oral drugs get metabolised rapidly by the digestive system, resulting in only a small proportion finally reaching the blood stream. This results in poor bioavailability of the drug within the body, impeding the drug from achieving its intended function. Furthermore, high dosages of certain drugs may cause distress to our gastrointestinal tract.
Lynk Biotechnologies has developed a breakthrough transdermal delivery platform that enables water-soluble drugs to be carried through the skin directly into the blood stream.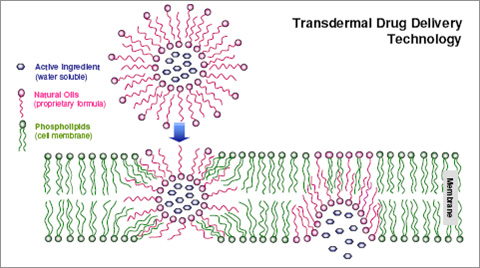 This Transdermal Delivery Technology is superior and innovative as it has the unique capability of being able to deliver active molecules across the skin in a sustained manner for up to six hours. As proof of concept, Lynk Biotech has developed TGC (Transdermal Glucosamine Cream), which contains a high concentration of the water-soluble compound glucosamine (10% w/w) encapsulated within a lipovesicular system in a stable cream dosage form. Extensive clinical studies have been conducted on TGC. One of them was conducted at Changi General Hospital (CGH) in Singapore to assess the efficacy of the Transdermal Delivery Technology platform in delivering glucosamine across the skin.
In this trial, excellent transdermal glucosamine profiles were observed with the human volunteers. Plasma glucosamine concentration remained high for up to 8 hours post treatment. This means that the Lynk's transdermal delivery technology can provide a high and constant source of glucosamine that is beneficial to patients suffering from osteoarthritis, as glucosamine is needed in the synthesis of chondroitin and hyaluronic acid, which are important in maintaining healthy and flexible joints.
We are currently in collaboration with Temasek Polytechnic to assay glucosamine in human synovial fluid.
In summary, Lynk Biotech's Transdermal Delivery Technology has the following unique properties:
Consists of a proprietary lipovesicular platform
Uses natural oils as delivery vehicles
Enables effective delivery of water-soluble molecules
Has the highest drug loading capability in the industry
Enables high product stability
Enables non-greasy oil-in-water formulations
Lynk Biotech products that are based on Transdermal Delivery Technology are
TGC (Transdermal Glucosamine Cream)
,
ANDRO® Cream For Men
,
Oestro® Bust Cream
and
JUMPSTART Instant Energy Cream
. All these products are developed and manufactured in Singapore under stringent quality conditions.